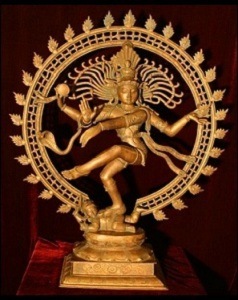 Students as young as kindergarten to older students from ages seven and up, are introduced to the joys of movement, music and imagination as they learn the fundamentals of Bharatanatyam.

Sanskruti's integrated curriculum for Bharatanatyam begins with Tatta Adavus, Natta Adavus, and Pukka Adavus, the basic steps of Bharatanatyam; followed by Hasta Mudras, the hand gestures; and eventually the Abhinaya or Bhavam, the facial expressions.

Rhythmic patterns and story telling movements are gradually introduced to the dancers as they master the dance steps and theatrical expressions associated with this art form. Once the students have learned the fundamentals of the Bharatanatyam techniques, dances from the repertoire are introduced to them in preparation for their Arangetram, or solo dance debut. This highly formalized training offers the dancer an opportunity to develop skill, grace, and discipline. Utilizing this foundation, the students will be encouraged to develop their own movement vocabulary based on Bharatanatyam tradition.

Along with the ongoing training in Bharatanatyam, students perform annually at the Sanskruti Student's Day Event to showcase their skills and gain experience through their performance. Students at all levels participate and perform at various prestigious Indian and American mainstream events all through out the year.

All dance students appear for an annual exam where their skills are tested according to the curriculum level.

The Bharatanatyam curriculum is divided into four levels:

Level I
Duration: 1-3 Years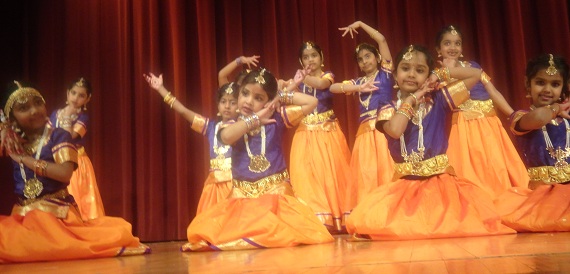 The foundation of Bharatanatyam training is developed through learning Adavus, which encompass all of the basic grounding vocabulary. Additionally, Sanskruti School focuses on posture and balance to give students a deeper awareness of the body, coordination, motor skills, and comprehension of basic rhythm. Level I culminate with the knowledge of the Hasta Mudras, the Single and Double handed gestures, the Drishti Bheda (eye movements), Shiro Bheda (head movements), and Greva Bheda (neck movements).

Level II
Duration: 3-6 Years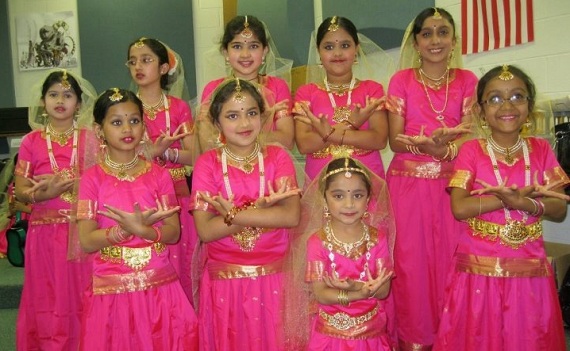 Students develop strength and tone as they work towards mastering their Adavus.
Skills increase in speed and rhythm through more complicated sequences, and students are introduced to Abhinaya or Bhavam, an expressional dance. They will learn 8 to 10 dances. By the end of Level II, students have begun their journey to understanding the theory of Bharatanatyam over the next several years and develop Angashuddham (clean body lines and movement). In addition to this, students will be imparted a more in-depth knowledge of both practical and theory aspects like Nava Rasa, History of Dance, Nayika Bheda, etc. in accordance with The Natyashastra.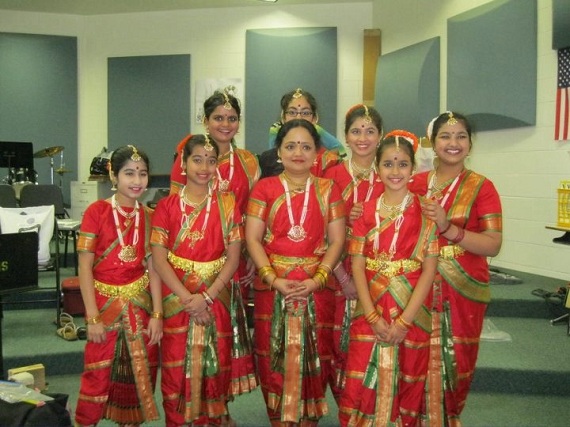 Level III
Duration: 6-9 Years


Dancers develop excellence in their movements, technical precision and have the endurance to complete longer, 20-30 minute pieces, advanced dances that engage deeper Abhinaya (expression) and substantial choreography through Varnams, Shiva Tandavams and demanding Thillanas. Level III culminates with a full Margam or Bharatanatyam repertoire, which is intended to demonstrate the dancer's advancement in performance, including advancement in discipline and attitude. Advancement to Level III requires delivery of strength and accuracy.

Level IV
Duration: 9-12 Years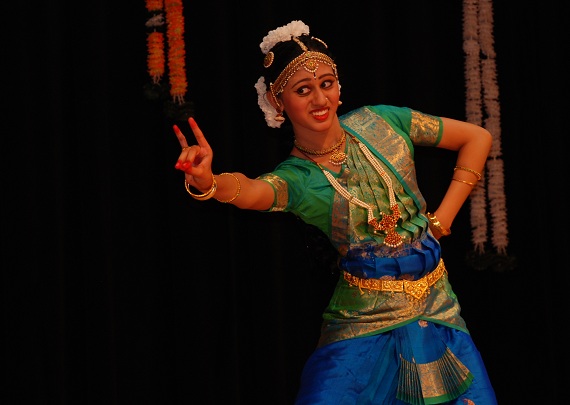 Beginning with Level IV, students become candidates to perform an Arangetram, dependent upon their development in all skill areas. The Arangetram is a culminating solo performance that defines their potential artistic passage to the professional level.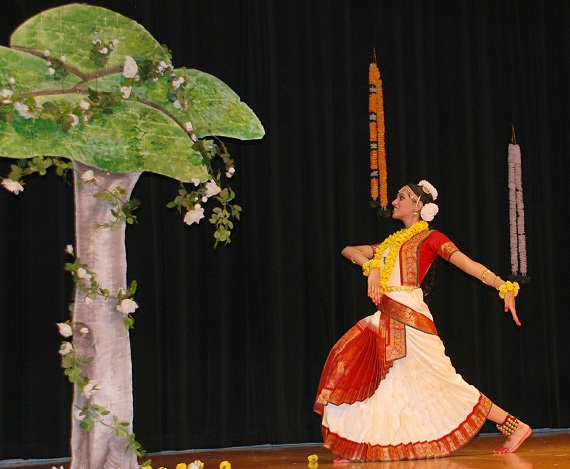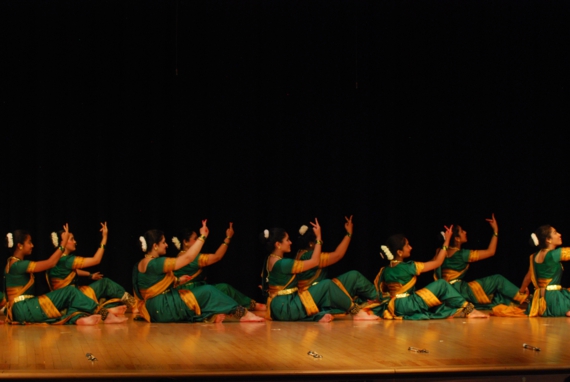 While the dance class curriculum is developed for Bharatanatyam training, Sanskruti students also learn other forms of dances during the course of their training. A brief description of some of these dance forms is described below.

Lok Nritya / Folk Dances of India have been an integral part of Indian culture and lifestyle. They differ from region to region in their techniques, costumes and music; but they all are exquisite expressions of devotional and festive moods of the people, and they also echo social, economic and political sentiments of the masses in society.

As a part of grooming in dance, Sanskruti students are trained in different types of folk dances from several states of India.. A variety of authentic folk dances from the states of Gujarat, Rajasthan, Maharashtra, Punjab, Bengal, Assam, Uttar Pradesh, Andhra Pradesh, Tamil Nadu and Kerala are taught to the students.



Creative dance is an art form that provides potential for the expression of personal and universal qualities. Through its use of nonverbal communication, and free style movements, it gives students the opportunity to participate in a way where they could think out of the box to create something new.

Keeping this concept in mind, many experimental works are being done at Sanskruti using the techniques of classical dance styles, creative movements, innovative music, and current social themes.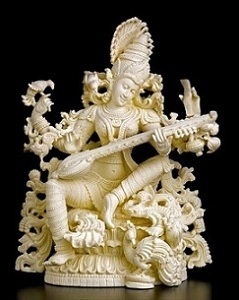 Hindustani Music is an Indian classical music tradition that took shape in the northern region of India around the 13th century from the existing religious, folk, and theatrical performance practices. The practice of singing based on notes was popular from the Vedic times where the hymns in Sama Veda, a sacred text, was sung and not chanted.

Hindustani classical music or Shastriya Sangeet, like Carnatic music, is organized by Raags which are characterized, in part, by their specific ascent (Aroha) and descent (Avaroha). Hindustani music was structurally organized into the current Thaat Scale by Pt. Vishnu Narayan Bhatkhande in the early part of the 20th century.

Sanskruti students can appear in a formal examination conducted by the 'Pandit Jasraj Institute for Music and Research' after the first two or three years of training. Please let us know if you would be interested when you begin your music education with us.


Sanskruti offers a seven-year course in Hindustani / Indian classical music. The curriculum is formatted for students ages 5 and up. A detailed course work will be handed out to the students at the beginning of a new session every year. School will conduct an annual test for all students, which will comprise of a practical exam, and eventually theory sections after the first two years according to their respective levels. The first year is designed to familiarize the student with an introduction to Swara (musical notes) and Taal (rhythmic patterns). Different combinations and patterns of musical notes called Alankar, are taught. Students are introduced to some basic Raaga and Taal.

The second and third years are designed to provide further training in the ten basic Thaat Raaga, which are the ten basic musical scales. In addition, they are introduced with Alaap, Taan, and Sargam.

In the fourth year, the students are taught some more complex and challenging Raaga along with different forms of classical music like Tarana, Chaturang, Haveli Sangeet etc. The journey continues for the next three years with an in-depth training as the students are groomed to appreciate and perform the classical music.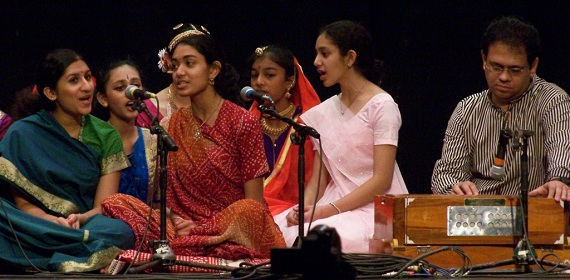 India is a land of diverse faith and beliefs and is bound by a common thread of music, which is an essential constituent of all religious practices. All the music students are taught devotional music as part of their learning. The students are taught devotional music like Bhajans, Kirtans, Abhangs and Haveli Sangeet by Saint poets Tulasidas, Soordas, Brahamanand, Kabir, Narsinh Mehta, Meera Bai and Sant Gnyaneshwar.


Although we introduce all the music students to the basics of harmonium or keyboards playing, a special curriculum is designed for students interested in learning just the harmonium or keyboards. The students are taught all the basic classical Raaga with rigorous Alankaar and Palta for ease in playing the instrument. Over the course of time, students learn to play pure classical songs, devotional songs, and appropriate new age songs.